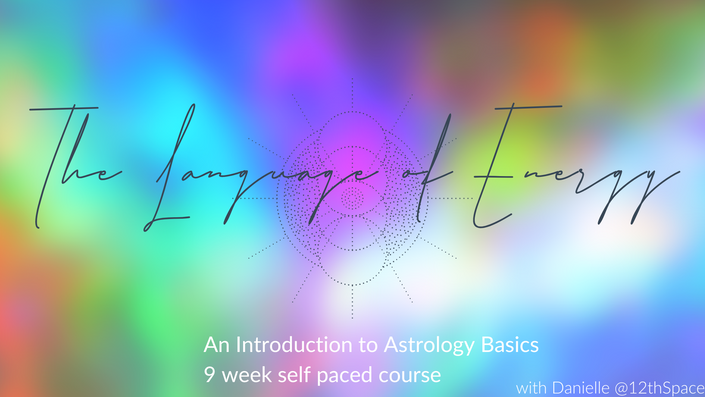 The Language of Energy
introduction to astrology + self empowerment
Welcome to my Language of Energy Course, a 9 week online course, introducing you to astrology and how to empower your language of self and your engagements with others.



THE LANGUAGE OF ENERGY
an introduction to astrology

The next LIVE course commences on THURSDAY MARCH 24
Please see the below for the dates and topics.
My 9 week online course introduces you to the foundations of astrology, using the Elements, Planets + Chakras to restore your language of their embodied expression and how to upgrade these patterns.

ONLINE AND VIA REPLAY RECORDING
9 x 1 hour classes PLUS additional time for Q&A to practice applying this to your charts
If you have attended any of my events and offerings you know of my passion for wording energy in its myriad of expressions, so I am thrilled to share this course with you! The great thing about enhancing your capacity to Language energy is, it is never definitive, merely expansive. So, we are aiding our evolution and healing to open our perception for our selves and how we view others.
(At the end of the course you will understand this is my Gemini Moon expressing from my 12th House and my Taurus Sun highlighting my Throat Chakra's calling.... and more importantly you will be able to see your own patterns and perceive them with clarity and empowerment too!)
You do not have to make it in person/live (though it is always nice to have the interaction) these classes have online participants and will also be recorded and loaded to my ascension school platform that you will have access to for repeated reply at your convenience.
I will introduce you to the Elements, Planets and Chakras: how to language them (how they are hidden in the language we already use) and how to upgrade these patterns within and around you – offering you a way to heal your communion with yourself and your engaged reality.
We will use your birth chart as a basis for learning how to language your own energy blueprint and how you commune with the cycles around you.
Those who are attending I will be creating a separate group chat (on telegram) so let me know if you would like to enrol and I can keep information shared there.
If you wish to enroll, please ensure you have your birth details/birth chart (exact birth time, date and location) EMAIL [email protected] before 22nd March so I can load your chart to the course folder. As we will use your chart as a basis for learning how to language your own energy blueprint and how you commune with the cycles around you.

"It is an amazing course and helps you express and explore and understand these parts of yourself a little more. I sometimes laugh as I often wondered why I used to go on a completely different tangent when communicating about something... now I know it's due to my Uranus conjunct Mercury .."
"Highly Recommend! It's packed with information and gives a great introduction to the vast area of astrology. I feel better equipped to understand my own energy and natal chart."

""I absolutely recommend this course! Danielle has the most incredible way with words and so is the perfect person to teach a course on the language of energy. I also appreciated how we went into our own charts which really brought things to life for me. I've definitely gotten a better handle on understanding and languaging my own and others' energy through the elements. The LoE course has opened up my understanding of the cosmos and how I embody the energy emitted by the planetary archetypes within me and in my life. Learning this language is the link between the cosmos and understanding how it's embodied within. Thank you for helping me get just a bit closer to better understanding myself and those around me. It's all such a complex dance, but it's starting to feel less so with your insights and instruction."
"I loved the link to the chakras and medicinal body looking at the connections there also. I really enjoyed people being able to question their charts and the great explanations and wisdom Danielle shared with us. I learn a lot in that way and am always fascinated by it. The practical activities and homework were really useful for embedding the learning and thinking about how specific energies show up in your chart and are reflected in your approach to life."
"I loved learning about the elements, but I also loved how you delved into the glyphs and meaning of the glyphs for the planets!"
"I initially worried I wouldn't have the time because of "Mom time"! but the course was actually perfect as far as schedule. And making classes up was made very easy."
"Having an understanding of myself and loved ones put me in a less reactive place when dealing with all types of energy coming at me."


The astrology that I use and teach from is western astrology (not Vedic) and I use the Placidus House System. My approach leans towards the psycho-spiritual and our connection to vast consciousness web.
I have been studying astrology with Andrew Smith and Karen Morgan at The Blue Rose for the past 8 years. I am a forever student of astrology- this enfolding path is teaching me more and more and I can't get enough - I love that! I aim to master what I share but I humbly accept I am most certainly far from mastery. If you know you want to dive deep into the field of astrology I would recommend joining the BlueRose school and begin with their comprehensive year 1, which I assist in teaching.
As the saying goes "you teach best what you most need to learn." -Richard Bach.
You need no level or prior understanding of astrology. An open and curious mind helps!

9 weeks (9 x 1 hour) Recorded Lectures loaded into the class platform.
Q+A is live via zoom - if you cannot attend the live class questions need to be emailed prior to the call time.
In this course we predominantly link language to our birth chart, we will also look at how these energies impact our chakras and energy as a whole.
My connection to the chakras and the wheels of life stems from my life long study of the chakras. Officially from my education with yoga teacher trainings (3 yoga trainings). But also from my teens learning energy healing modalities and my love of linking pretty much anything back to colour, elements or an e-motion which can lead us to the root of energy that expresses through our chakras and then on into our physical bodies, emotional and mental patterns. And so, the loops and cycles, spirals and wheels of life are formulated.

Some see their world from a practical and tangible manner, I personally see it like a vast web of colour, shapes and tones. And I used to (occasionally still do) struggle with the tangible, but it was astrology that gave me the tool of languaging my perception and grounding with self acceptance to thread it together and make sense of etheric patterns and communicate it with beautiful expression!
Please email [email protected] to enroll with your birth details and I can sign you into this course.

CLASS SCHEDULE 2022
Opening Thursday (Jupiter Day) March 24th
THURSDAY, MARCH 24

INTRODUCTION: ÆTHER (SPACE) CHART AND ENERGY ANATOMY

THURSDAY, MARCH 31
THURSDAY, APRIL 7
THURSDAY, APRIL 14
THURSDAY, APRIL 21

PLANETS: THE LIGHTS - SUN, MOON, ASC

THURSDAY, APRIL 28

PLANETS: PERSONAL PLANETS - MERCURY, VENUS, MARS

THURSDAY, MAY 5

PLANETS: SOCIAL - JUPITER + SATURN

THURSDAY, MAY 12

PLANETS: TRANSPERSONAL - URANUS, NEPTUNE + PLUTO

THURSDAY, MAY 19
Your Instructor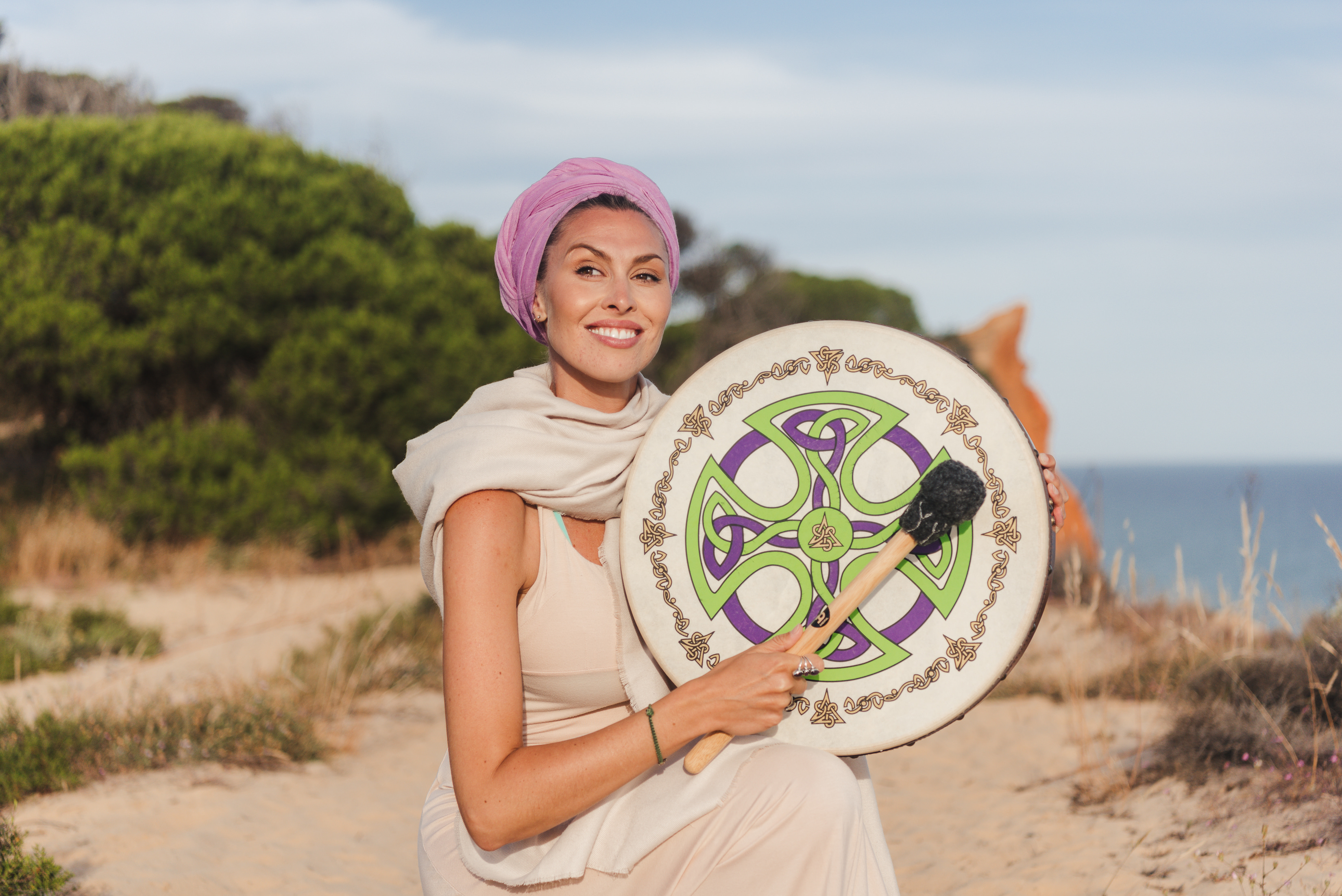 Hey, I'm Danielle, Welcome to my School Platform where you can find my recorded ceremonies, courses and online webinars sharing a range of topics from Astrology, The Celtic Wheel of the Year, Energy and Intuitive Healing Development and Empowered Birth ...
Thank you for joining me and my offerings collected over the years of guiding, teaching and sharing my findings from my own spiritual path as a curious clairvoyant, yoga loving, cacao sipping astrologer.
My intuitive and out of body experiences have coloured and shaped my life since childhood. This has taken me into many methods to aid my empath abilities and train myself to utilise this way of experiencing the world, so I share what I have found highly beneficial.
I was initiated into Healing Arts at 13 years old, (my teens were one of my darkest times and without an understanding of this way of connecting to the world I would have metaphorically "drowned"). Reiki helped me understand that how I was secretly experiencing things was ok, it was a useful tool and that I could hone this to improve my connection and offer assistance to those similar to me. Fast forward 20 years.... since then I have been a student of many energy uplifting art forms... Crystals, Angels, Yoga, Breathwork, Sound Activation, Astrology, Cacao and plant medicine.
Languaging energy is one of my most favourite things... the colour and shape of our perception and experience and response with it is enthralling! I have a 12th House Gemini Moon ;-)
Sacred Ceremony and Healing Rites are my passion - I love sharing these beautiful and ancient futuristic ways of transforming and celebrating our lives in person and in sacred gathering groups... and here, I offer them online. Drawing from my extensive knowledge in the field of spiritual wellbeing and ascension I offer you a chance to leap into the best version of yourself NOW!
Qualifications:
Reiki Master & Seichem Healing
BA Hons in Interior Architecture
Yoga Instructor - Ashtanga, Chakra Vinyasa, Yin, Pre & Post Natal, Pilates Mat I & II
Angel Healing & Crystal Healing
Lemurian Planetary Healing via Diana Cooper School
Astrology with The Blue Rose (Andrew Smith & Karen Morgan)
Cacao Ceremony Facilitator with Keith's Cacao (Guatemala)
Sound Healing with Sound Ceremony (Saraswati and Jaya)
Frequently Asked Questions
When does the course start and finish?
The course starts now and never ends! It is a completely self-paced online course - you decide when you start and when you finish. The LoE course has two LIVE courses a year to engage in live Q+A calls with Danielle
How long do I have access to the course?
How does lifetime access sound? After enrolling, you have unlimited access to this course for as long as you like - across any and all devices you own.
What if I am unhappy with the course?
We would never want you to be unhappy! If you are unsatisfied with your purchase, contact us in the first 30 days and we will give you a full refund.